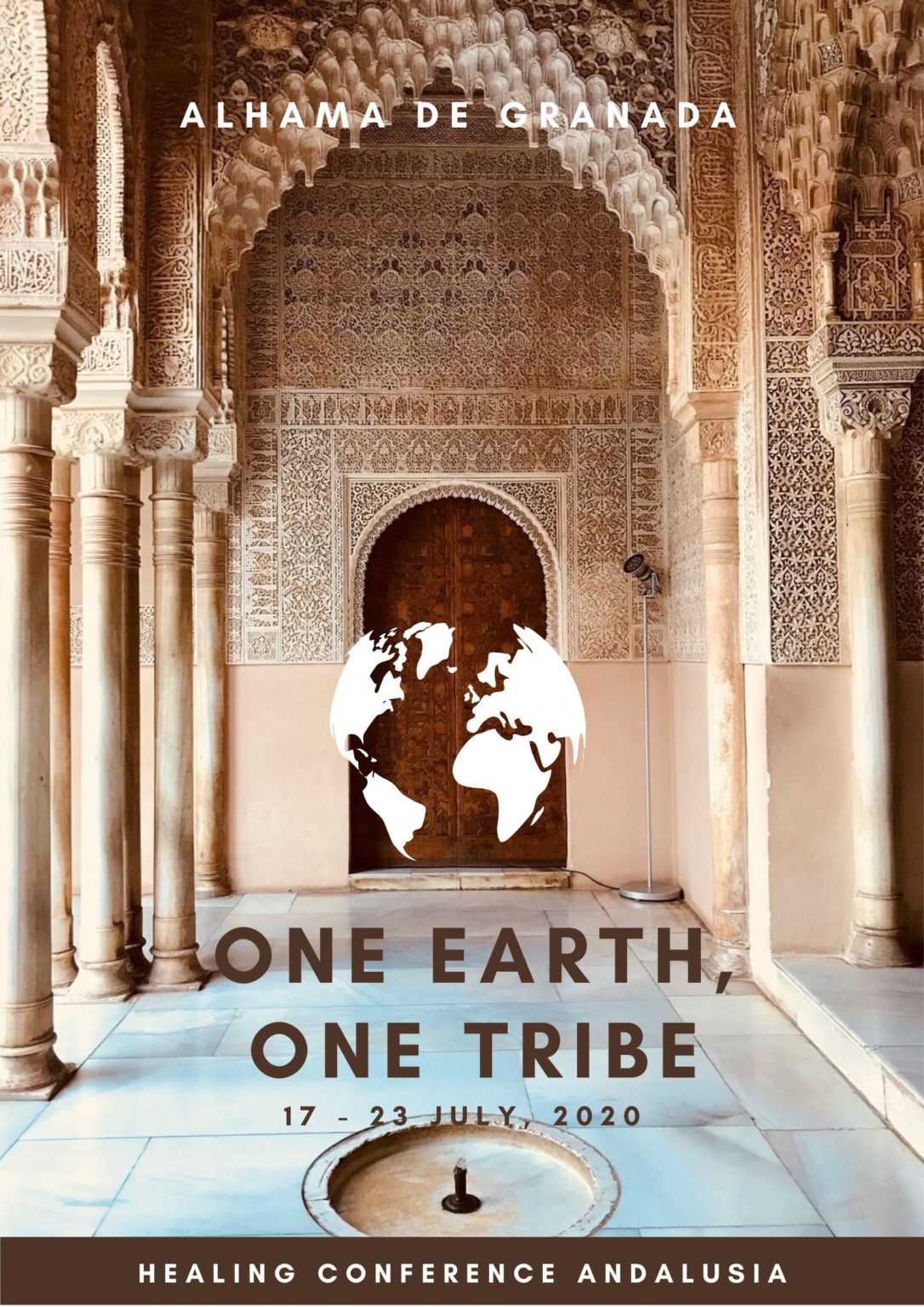 Healing Conference Andalusia
ONE EARTH, ONE TRIBE
Connecting to the spirits of the land
In 2016 we heard the call of Mary Magdalene to organise a annual Healing Conference in Andalucia on her saint's day (22nd of July), as a way to truely reveal the new feminine powers in women, in men, in the earth, so as to create a new world. The energy of Mary Magdalene, symbol of the feminine christ awakening in the western tradition, represents a deep and sacral feminine power that is needed in these times of change. It is felt on Spanish soil e.g. in the knowledge of the Essene traditions that left their marks in many Andalucian cities, and in the Gypsies that kept an old feminine knowledge alive. But it is – so we discovered – also very much linked with a darker episode in the history of Spain: the conquering of the indian tribes in South America, and the distruction of their wisdom.
The 4 earlier episodes of the Healing Conference Andalucia have moved us through deep layers of historical energies that needed to be seen, lived and healed. This year is opening a new layer of information that is being revealed to us:
"I am White Buffalo Calf Woman of the tribe of Turtle Island, of the Sioux. I represent the Rainbow Nations. Like you we went through a time of ordeal and challenge. We had to restore our faith in the Great Spirit. It wasn't easy, since we were mostly wiped out but our wisdom and our connection to Great Spirit is coming back. Our reverence to Mother Earth is returning throughout all humanity. This time the Warriors of the Rainbow are awakening in all races, in all religions.
We went through this process of death and resurrection, so that this knowledge would be spread all over the planet. It asked a great sacrifice and suffering from our people, the people of the Red Road. But now as we see the result and the importance, we understand the ways of Great Spirit and we accept the sacrifice. Now it is up to you to take the lead, to lead these spiritual Warriors of the Rainbow to bring about a new earth. To sow the seeds of a new creation, of which you might not see the results yet, but know and trust that the work you do is of utmost importance to bring about a new world: the fifth world, as we call it.
But first an old world will die. Many lives will vanquish, nature will suffer, animals will go extinct and the rivers will dry, as the Great Prophecy has been foretold.
But not without a cause. Trust in the process and trust that we are there with you to communicate with these spirits of the land, with the devas of Mother Nature, with the water spirits and fire spirits, the spirits of the clouds, and the air. We went through this process and we will pass our wisdom on to you, white people across the ocean.
Bring the tribes together. Open up the portal towards the celestial realms and to the earthly realms. Bring back the heart. Find oneness. A new conference, a new theme, a new creation: the connection with nature, with the elf and dwarf beings that still hold the old wisdom of Atlantean times, the connection with all powers and devas of nature that live in these fields. It is a true co-creation, between you, the earthly powers, nature and angelic or energetical being. Deeper layers are visible now, in yourself, but also in the collective field." Aho mitakuye oyasin." (7/2/2020)
WHERE – Alhama de Granada
In the pureness and untouched nature of an extraordinary estate in Alhama de Granada, halfway between Malaga and Granada, we reside for one week to explore our own search, and much more: the search of the earth's evolution, reveiling herself through us. In this week we invite light and shadow to dance to become one, giving in to the energies that want to be revealed.
PRINCIPLES OF OPEN SPACE
The main intention of our work is personal healing and growth. So the fuller you personally engage in the process, the more it might bring to you. We encourage your preparation and devotion to this work by tuning in the months and weeks before, by asking a few questions to yourself: what is my intention? What do I want to achieve? What is my pitfall or my shadow? How can I prepare myself?
We work with the principles of Open Space, which means we meet twice a day in a circle (morning and evening) and we create the program together on the spot.
The Open Space principles are:
The people who are there, are the right people (even if they might confront you in a way).
Whatever happens, is the right thing to happen (it often reveals a deeper story).
When it begins, it begins (your inner voyage might start long before the outer voyage).
When it is over, it is over (the process started during this week might linger on in your personal life for some time after your home coming).
Follow the Law of Two Feet (go where your intuition brings you).
Expect the unexpected (despite our expectations or intentions, the collective unconscious knows better what really wants to be revealed).
Accomodation
Mari en Rik open up their Cortijo 'Vista Infinita' a whole week for our company. As Flemish people they have integrated completely in the Spanish culture and their hospitality is heart warming. They are guards of this magical property, and take care of all the lovely food and drinks, the glamping tents with beds, the swimming pool and other accommodation for their guests. The estate is about 10 miles from the centre of the village of Alhama de Granada, Andalucia, www.cortijovistainfinita.be.
WHO – Organisation
This week is facilitated by Ton van der Kroon, Anne Wislez, Tineke Weymiens and Christiaan Steeno.
Ton, www.tonvanderkroon.com, has guided many groups for many years to power places, and has organised several Mary Magdalene festivals in the south of France.
Her whole life, Anne has been fascinated by the feminine and by balancing yin & yang, https://annewislez.wixsite.com/boldnewworlden www.smell-the-roses.be.
Tineke en Christiaan, bon vivants pur sang, also made several journeys to power places and live on a power vortex in Nieuwrode, Belgium, where they host, guide people and groups. Website Tineke: www.o-pening.be.
WHEN – Data
Start: friday, July 17 2020, 6 pm (evening).
End: thursday, July 23 2020, 12 am (midday).
All participants are requested to leave on thursday, the 23d.
There is a possibility to arrive thursday July 16th, extra allowance 60 €, for food and stay.
HOW MUCH – Price
1150 € p/p. including accommodation, in luxury tents (3 beds/tent and communal bathroom), use of the swimming pool, all meals and water/coffee/tea.
Exclusive: travel to and from the location, possible excursions.
Early bird rate before May 1 2020: discount of 50 €.
If you would prefer spread payments, contact Tineke: +32-473-78 15 40
HOW TO GET THERE – transfer
For transfer from Malaga airport to Alhama de Granada and Cortijo Vista Infinita, contact Christiaan Steeno: +32-475-280 230, chrissteeno@hotmail.com
HOW TO REGISTER
Sign up by writing to Tineke: martine.weymiens@telenet.be. This interaction might be useful to check whether the Conference can meet up to your expectations.
More info, logistics, Christiaan Steeno: +32-475-280 230
More info, content, Tineke Weymiens: +32-473-78 15 40
After contacting Tineke, you confirm your participation by paying 400 € as a deposit. The fully amount is paid by June 16 2020.
Account number DragonHill: BE36 7310 4040 1481, BIC KREDBEBB
CANCELLATION POLICY
You're not registered until the deposit is paid. When cancelling before June 16th 2020, the deposit will be refunded. Cancellation after June 16th 2020, the deposit will not be refunded. Subscriptions after June 16th 2020 are possible, after personal contact with the organizing committee and after paying the fully participation fee immediately.
HOUSERULES
All participants are present from beginning till end. You can only participate for the whole Healing Conference. The conference starts with dinner and the opening ceremony on the first night, and ends on the last morning with a closing ceremony.
We accomodate three persons in one tent, to allow a maximum of 15 people. Please inform us if you want to share your tent with someone special. You can also bring your own tent, please inform us in advance.
If you have any specific dietary needs, please let us know. We will see what is possible to provide on the spot, or what you should provide yourself. Without notice, we assume you eat everything.
As for the context and content of this week, personal healing, no children –nor animals –are allowed.
No drugs of any sort are permitted, and we like you to limit alcohol, coffee and meat.
Your participation is at your own responsibility. Of course we will do anything possible to make your stay as safe and comfortable as possible, but we can't take any responsability for your safety, nor for your emotional, physical or financial well being.
Make sure you have a valid travel insurance.
We are guests in another country, another culture and maybe for some of us another religion. Please respect the local customs, rules, dresscode and formalities.
Note that the main language spoken on the conference will be in English.
We will be using Open Space, a way to give space to that what wants to reveal itself and to connect to that what resonates inside of you. Open Space gives the possibility to expect the unexpected, out of your own inspiration, out of the group, out of the moment. It is a sometimes discomforting method but one that can reveal magic beyond our imagination – or so we discovered.