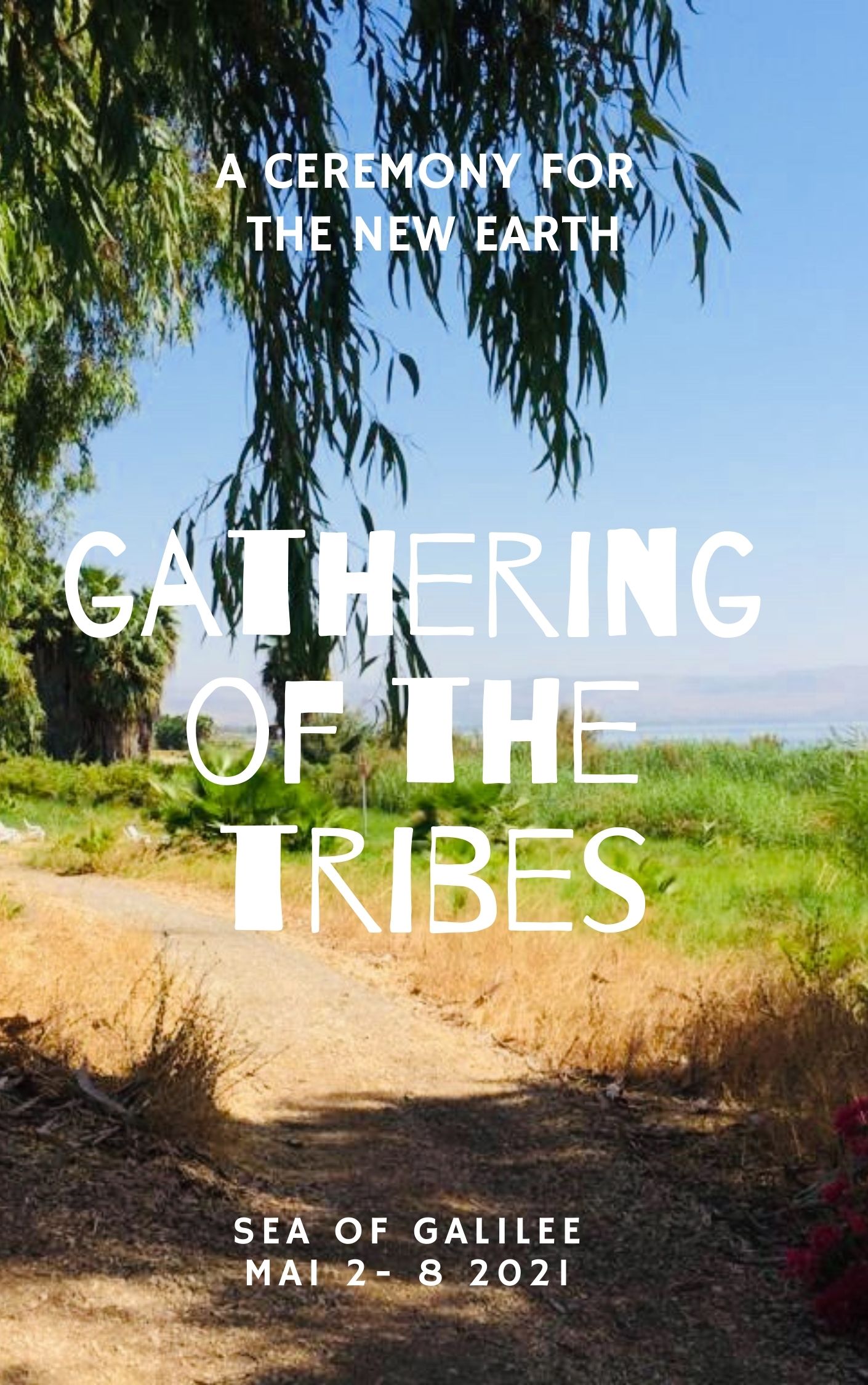 GATHERING OF THE TRIBES
The Prophecy of the One Tribe encompasses all the twelve, and it's at the moment when all these tribes come together, that humanity can take a different course and history will be changed."
Karei Deshe Hostel, Kinneret (Sea of Galilea)
MAI 2 -7, 2021
As we are faced with unprecedented challenges, all over the world, we are becoming aware that in the end we share one fate: we will survive together or not at all. After all, we are part of just one race: the human race. It is this realization that has brought us to organize this 'Gathering of the Tribes' at the Kinneret, also called the Sea of Galilee, to bring wisdom keepers, healers, shamans, change-agents, 'grandmothers', young and old representatives of all nations and all tribes together for a three-day ceremony. The aim is to to tap into the ancient wisdom of the Earth and to create a healing ceremony for human kind in this time of transformation. Our theme is 'Honor Diversity, find Oneness.'
We were inspired by a prophecy about the return of the Thirteenth Tribe from Dina, the thirtheenth child of Yacob.
"The thirteenth tribe, which is the feminine, is connecting all the twelve tribes. It's the sisterhood, which brings back the twelve. Because the twelve have been scattered all around the world, thinking they are different, they are separate from each other, but in the end they belong to the family of one, to the one tribe of humanity. The thirteenth tribe is all of you together. It's in this moment of time that you have to recognize each other as brothers and sisters of this one tribe. Here is the ancestral heritage, both for the Jewish, the Muslim and the Christian people, all descendants of the same prophet: Abraham. Just by coming here, by acknowledging this place, you're opening up the portals and the Books of Wisdom.
Connect with the music, with the dance, with the earth, with the wind and with the water, and of course connect with the people. The Prophecy of the One Tribe encompasses all the twelve, and it's at the moment when all these tribes come together, that humanity can take a different course and history will be changed. Here is the place and the people that will take a lead, but it's a message for everyone around the globe. If you stick the needle here in the collective field, it will ripple through the whole cosmos."
We want to invite you in 2021 to Karei Deshe Hostel, the venue in which we will gather for our ceremony. Book your place in advance, so we know how many rooms of the hotel we will need to reserve.
The Hosting Group
---
PRINCIPLES OF THE GATHERING
Whoever comes are the right people
Whatever happens is the right thing to happen
When it begins, it begins
When it ends, it ends
Follow the Law of Two Feet
Expect the Unexpected
COSTS AND RESERVATION
 still unknown
 to be paid to account TREE OF LIFE, IBAN: NL 90 INGB0008216143 , BICCODE: INGBNL2A. THE NETHERLANDS, AMSTERDAM
 To reserve the hotel, (which is very quickly fully booked) we need to know in advance how many people are coming. Please make your reservation as soon as possible, but the latest at februari 1st.
In case of cancellation, let us know and we send you the money back. (100% before februari 1st, 60% before april 1st, 0% after april 1st)
Make your reservation via: Annelies de Moet, info@natuurlijkorganiseren.nl
DETAILS
Start of the gathering: First circle at 20.00 hrs
End of the Gathering:  Ending ceremony after breakfast till 11.00 hrs.
You can only come for the full program
Bring your own music instruments, books, brochures, tools etc.
We are creating the program together, having a plenary circle in the morning at 10.00 AM and in the evening at 8.00 PM. In between is space to organize sessions, workshops, meetings, visiting sacred places etc.